If Dr. Dog is the future of classic rock then I would add
Dawes
to that list of bands as well. Straight out of the North Hills of Los Angeles, four california guys recreated the music of their childhood. While other bands overdub recording sessions into computers, Dawes records their entire album live onto 2' tape. Critics call their efforts a desperate attempt to be retro but their sound weaves together their sound and identity. "North Hills" invites you into their personal practice space letting every nuance be detected. Even occasional wrong notes and going off pitch only add to the album's experience. Some vocals are reminiscent of Neil Young mixed with the harmonies of The Thorns, while others range from Motown Soul to Classic Folk. Iconic songs like "
America The Beautiful
" by Ray Charles come to mind listening to the power of "
That Western Skyline
." Taylor Goldsmith's voice invades your soul and takes hold. Dawes are playing shows throughout the entire country this summer so check them out, odds are they are going to be in a town near you.
RIYL:
Neil Young
,
Dr. Dog
,
The Thorns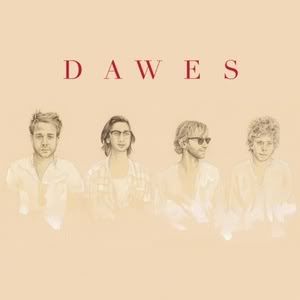 If you would like information about where to get this album email
BloginHood@Gmail.com