Los Angeles is known for sunshine, surfing, and good times. Well at least as far as Saved By The Bell was concerned. This Los Angeles band,
Local Natives
, makes me wish I had more sunny days spent out with friends. I have only listened to this album a few times but I can already tell it will be on my favorites list for this new year. It is one of the first releases of 2010 that I have fallen in love with from the start of track 1. The band is full of rich harmonies, that you would expect from a more upbeat version of the Fleet Foxes. Along with the harmonies comes a drum beat that is driving the song to wherever it is the listener is going. This album makes me long for brighter days ahead. It is made for anyone who is tired of being cold and has cabin fever. Put this album on and let your mind take you away.
RIYL: Fleet Foxes, Annuals, Margot & The Nuclear So and So's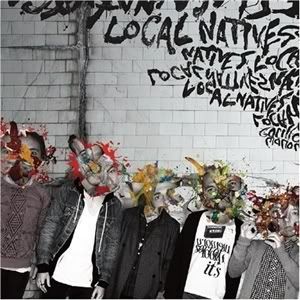 Update: You can check out the Local Natives Daytrotter Session
here
. It has 3 free downloads.